The Pentax K3 Mark III Has Been Delayed Indefinitely
Pentax has announced that due to a parts shortage, the K3 Mark III DSLR that was scheduled to be announced at Japan's CP+ show on February 25 has been delayed indefinitely.
CP+ is an online-only event this year, but that hasn't stopped Japanese camera manufacturers from planning product releases based on the tradeshow's schedule. Pentax was set to launch the camera during the event, which takes place between February 25 and 28.
It was reported that the K3 Mark III would be able to reach ISO 1.6 million and would cost about $2,500. The launch, however, has been delayed.
Pentax explains the situation in a development update sent to PetaPixel. Below is directly quoted from that note:
RICOH COMPANY, LTD. and RICOH IMAGING COMPANY, LTD. sincerely appreciates your support and patronage of PENTAX products.

We would like to present a progress report on the development of the PENTAX K-3 Mark III, the PENTAX's new APS-C-format digital SLR flagship camera, whose development was first announced to the public on October 27, 2020.

Although it was initially announced that this camera would be launched on the market around the world premiere show "CP + 2021" of cameras and photographic images, scheduled to be held from February 25 to 28, 2021.

As some of the product parts are delayed, and we have determined that development will require a greater amount of time for us to achieve the exceptional performance and finest quality that is the hallmark of next aps-c flagship model.

We apologize for any inconvenience this delay may cause, and ask for your kind understanding of our development efforts.
Pentax additionally states that there is no new timeline for the K3 Mark III's release at present.
The road to this point has been unusually filled with news from Pentax, which has repeatedly taken steps to hype its upcoming camera. While not officially revealed until last October, Pentax spoke multiple times about its commitment to the DSLR and detailed features it was working on in July of 2020. The company finally revealed the K3 Mark III on October 27, 2020.
On Ricoh Imaging's website, you can see a series of 10 articles on the K3 Mark III that date back to late July of last year.
On December 24, 2020, a hands-on preview of the flagship DSLR was published that showed everything from the approximate size of the new camera to its menu system.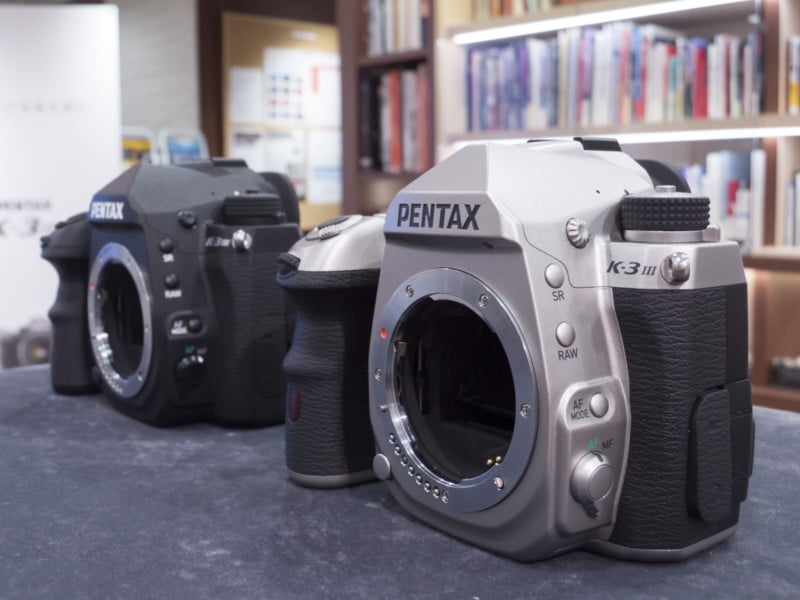 Later that month, Pentax would say it "cannot" go mirrorless as part of an interview with Alfa Romeo.
For Pentax and DSLR fans, this is terrible and disappointing news. It is unclear what specific parts Pentax was unable to source for the DSLR, but it's possible the AKM fire may be to blame, though that would only be the case if the K3 Mark III was going to support video modes. Whatever the case, fans who were waiting patiently for the flagship Pentax DSLR will just have to keep waiting.