Photographing VP Joe Biden in His 'Battle for the Soul of America'
With the 2020 election looming large on the horizon, former Vice President Joe Biden's official White House photographer David Lienemann is stepping forward to show Americans the real "regular Joe," as he fondly calls the VP.
Lienemann's 256-page hardcover Biden: The Obama Years and the Battle for the Soul of America is due to be published by Voracious on September 8th.
Lienemann presents the many faces of Joe, from taking the field for the Baltimore Orioles season opener with granddaughters Finnegan and Maisy to commemorating the Civil Rights movement with the late Congressman John Lewis in Selma to officiating a same-sex marriage of White House staffers to his official duties as former President Obama's second in command.
"Looking back at David's photographs, I am filled with deep pride," writes Dr. Jill Biden in the foreword. "He captured it all: the hours of work, the questions and negotiations, the emotions that spanned from such incredible highs to such heartbreaking lows, every hard-fought battle…I know the hope I see in David's pictures is not gone. It is alive, and its power will continue to transform our nation for the better…These photographs invigorate me for the challenge ahead, and I hope they do the same for you."
We sat down with Lienemann, as he cradled his 16-month daughter Millie in their New Mexico home, to hear his story of the eight years he spent in the White House with the VP and what he wants Americans to see.
Phil Mistry: How did the book project come about?
David Lienemann: The book project came about when a former White House coworker of mine suggested that I should work on a book shortly after Joe Biden crossed the delegate threshold in the democratic primary. I reached out to my former boss Pete Souza who was the director of the Photo Office, who connected me with his agent David Black. I ended up working with Pete's publisher as well, Michael Szczerban at Voracious.
Tell us about the photo selection process?
Sure. It's obviously challenging to narrow down from hundreds of thousands of photos to just a couple of hundred images to try to tell the story of eight years. I really wanted to give readers a sense of who Joe Biden is. A family man, a man of faith, who always wanted to know how government policies would affect the working-class people in the neighborhood where he grew up.
The book encompasses a wide variety of photographs, from the early days of the Obama Biden Administration to the first trip to Iraq as VP, where he swore in new US Citizens in a 4th of July Ceremony meeting with wounded warriors and grieving families who lost loved ones to gun violence. The highs and lows of the administration.
How did the title "Battle for the Soul of America" come about?
I believe it was a bit of a play on the campaign's slogan, "Battle for the Soul of the Nation." There was a lot of workshopping of how to acknowledge that it was both a look back at Joe Biden's eight years as Barack Obama's Vice President, and also a look forward at a possible Joe Biden presidency.
Which is your favorite image in the book?
Favorite image in the book is probably an easier question than favorite image. There are just so many to choose from! But, in the book, my favorite image is of Delaware Attorney General Beau Biden, the Vice President's oldest son, and they're standing backstage at the 2012 Democratic National Convention with Dr. Jill Biden waiting to go on stage. Amidst all the cheering and the music and thousands of people packed into an arena in Charlotte, Beau is quietly leaning over to straighten his father's tie. There's something really personal and kind about the moment.
If you have shot multiple images of a situation, do the not-so-good ones ever get deleted, or is each and every one saved to the archive?
All of the images we took are archived. Photos are covered under the Presidential Records Act, which requires they be saved and transferred to the National Archives at the end of the administration.
So, if an image is out of focus, is it still archived?
Yes, out of focus, blurry, I have some really terrible photos in the archives.
Did you shoot any photos at the White House with your cell phone? Have any gone on the record?
I took a couple of photos on my iPhone for work, and they are in the Archives, yes. I didn't actively use it to shoot with because the quality of the files didn't really match up with the quality of DSLR files at the time.
Are you trying to be invisible while you are at important meetings?
Always! Which doesn't mean I never tripped over something while moving around the room. I tried to use quiet cameras, avoided flash whenever possible, and just tried to blend in, to not distract or take away from what was going on.
How challenging is this job to work in the White House?
I talk about it a little bit in the introduction to the book. It's a really unique job and an incredible opportunity as well. You alluded to this earlier, about trying to be invisible while you're in the room taking photos. You want to be there to capture every moment because something that seems mundane one day might turn out to be an immensely meaningful moment later on.
At the same time, the more photographs you take, the more there is to sift through, and unfortunately, you can only work so many hours in a day. It also can be a bit of a 24-7 job sometimes. I worked a lot of holidays and missed a lot of time with my family. I also met my now wife at an event with the Vice President.
How much did you travel with the VP?
Honestly, not sure on the mileage as they tracked his mileage, and I missed a few trips with him. [I] went on a couple of trips with Dr. [Jill] Biden, safe to say, over a million miles though. Forty-seven states and sixty-four countries, I had to go back and count them all up to make sure the numbers were correct.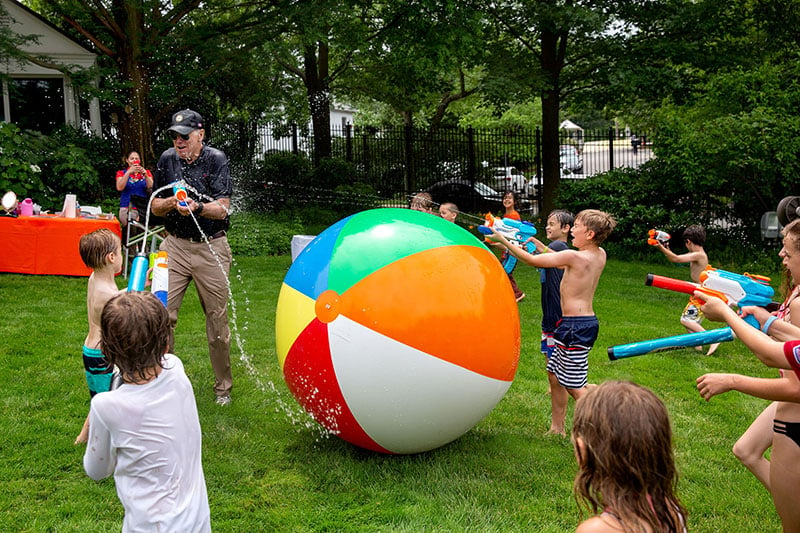 How many images did you shoot in the eight years?
Just under a million images, we tried to do a quick count in the last week of the administration, but it was a real whirlwind of packing up my office, trying to respond to as many emails as I could, and send as many photos out as possible.
So, can anybody see the complete archive of VP photos that you took?
I don't believe so. I'm not completely up to speed on how the National Archives handle records, but I think they become more public over time, but I think it's still handled, to some extent, by request.
Do you shoot JPEG or RAW?
Actually, I shoot both. The first couple of years, cameras only had a single card slot. We archived the RAW files, and the JPEGs were just there in case something went wrong with the card since they were slightly easier to recover with file recovery software. In the later years, when cameras had dual slots, RAW files went on one card and JPEGs to a second card that just lived in the camera… again as sort of a redundancy in case of card failure.
Did you edit the photos? What was your software of choice?
Editing in the sense of choosing photographs, I used Photo Mechanic to browse images and tag them. I know a lot of folks like Lightroom for this, and I've looked at it but just never have felt as comfortable with it. Editing actual images, yes, in the traditional journalism sense of cropping, adjusting exposure, and trying to achieve an accurate color representation of a room. But not editing in the sense of adding or removing people from the room.
What is your deadline for delivery?
Depends, photos for social media, the White House Website, or release to the media were prioritized and happened as quickly as was possible. Posed photos of folks from a photo line after an event, we tried to get out as quickly as possible, but the process wasn't perfect. I will note that I was helped with this by Jordan Brooks early in the Administration and Chris Mackler in the later years.
Would you ever drastically crop, like making a horizontal frame into a vertical photo?
Sure. We had something called Jumbos. They were large photos in the West Wing of the White House that were periodically changed out. I had one vertical jumbo frame at the end of the hallway, and sometimes I'd shot plenty of verticals and had no problems filling it, and sometimes we were scrambling to try to find something that would crop nicely from a horizontal.
Is it OK to crop out unimportant people from the frame?
I think I cropped more because I hadn't shot the image the way I wanted, whether the camera was tilted slightly, or I hadn't used a long enough lens, couldn't get close enough to achieve the image I was trying to create to tell the story.
How do you win the trust of the important people you work within the White House?
That's an interesting question I thought about when I was writing for the book, and I've talked to photo students about before. There's obviously the background check side of working there where the government does a deep dive into your background to make sure you aren't a spy. But building trust with the Vice President and Cabinet members takes time, being respectful and obviously not sharing things that are said behind closed doors or posting on social media.
Did you shoot with zooms or primes? Which ones?
I used both primes and zooms. When I was in the West Wing or most of the time on the road, I had a 24-70 on one camera body, it just covers so much range for the kind of photos I was making given the access I had. My second camera sometimes had a 70-200, 35, or 85mm lens depending on what was happening. In rare occasions, I'd use something much longer or wider, but the bulk of my photographs were captured on a 24-70mm.
If you had to use only one lens on a foreign trip, which would it be?
Foreign travel at the White House? Probably that 24-70, 2.8. In most countries, they had arranged access with my counterpart, and so I wasn't stuck on a riser 100 feet away. Foreign travel for me as a private citizen? I shoot an awful lot with a 35mm lens now, and then for that second lens, something in the super-telephoto range like a 100-400mm.
Sorry for the delay. The baby came in to see what I was up to.
What is the baby's name? How old?
Her name is Millie. She's 16 months.
Don't ask how many photos I've taken of her, I have no idea, but I'm sure it's a ridiculous number.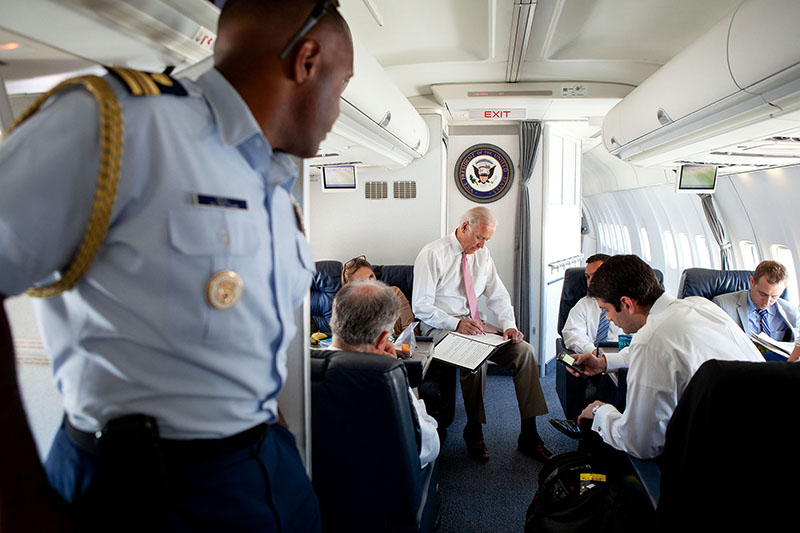 It will quickly climb to over a million!
Which cameras did you shoot with?
At the White House, the photo office used Canon. I also dabbled with Leica, Nikon, and in the last year of the administration, a Fuji X-Pro2, which I loved as a digital rangefinder, plus weight/size and silent shooting. Since the end of the administration, I've used both Fuji and Sony cameras.
Was the sound of the shutter on the Canon DSLR distracting to Joe?
I honestly don't think he was. We used [Canon] 5D cameras, which are pretty quiet, and they are silent. If you're trying to take photos during a TV interview, you want to be silent. If he's consoling someone who lost their child or their parent or spouse, you want to not distract from that moment.
Did you use flash where there was no risk of disturbing anybody, like in larger spaces?
I used flash for photo lines after an event, which were often poorly lit. And I'd occasionally use it outside for photos if the lighting really required it. But I'm not much of a flash photographer. I've always tried to work with available light as much as possible.
If both Obama and Biden were present, then were both Pete [Souza] and you shooting simultaneously?
I'm not sure I understand the question. Do you mean in the previous administration when they were together?
That is correct when they were making joint appearances.
Got it. So, when they were in the Oval Office, Pete covered it, if they were doing an event in the Rose Garden or an event in Pennsylvania or Ohio, then we were both there.
Unlike Obama's official photographer Pete Souza, who had a staff of shooters, you only got backing under special circumstances. When did that happen?
So, we all worked in the same office and helped each other out when possible. Chuck Kennedy, Lawrence Jackson, and Amanda Lucidon all covered for me periodically, whether I was trying to take a couple of days off to get away, or if I was traveling with Dr. [Jill] Biden to visit a refugee camp in Kenya.
Are you allowed to keep the photos from the archive on your personal computer?
I did some work for the Bidens after the administration, so I have some of the photos from my time at the White House.
Can you tell us about the shooting of the official portrait? How long did the session last?
From setup to teardown, probably 30 minutes? I'd been working on another idea with my colleague Chuck Kennedy, so we'd set up some lights and dialed in a concept a little bit. Then the VP asked if we could try a photo in front of his desk at the end of the day, so while he went to his last meeting of the day with President Obama, I set up a light with a large poster board sized bounce card. Chuck stood in for a couple of frames to make sure everything looked good, and we moved the computer, phone, etc. off the VP's desk.
Did you photograph Biden at his residence as well as the White House?
Sure, he held meetings there occasionally, hosted foreign leaders for meals, the Bidens hosted receptions there, holiday parties.
How did you transition from Cornell College with a BA in Economics and Business in 2005 to photojournalism?
I studied economics and business at Cornell College, but realized in my junior year that I wasn't sure that Excel spreadsheets and crunching numbers was how I wanted to spend my time after graduation. I'd always really liked photography. I'd been freelancing for the local weekly paper and had spent some time job shadowing at the Cedar Rapids Gazette, which covered eastern Iowa. I was really fortunate to get a string of newspaper internships after college, which gave me a tremendous amount of experience in photography. Going to college in Iowa also meant that I was exposed to a lot of politicians and political activity during the runup to the Iowa caucus.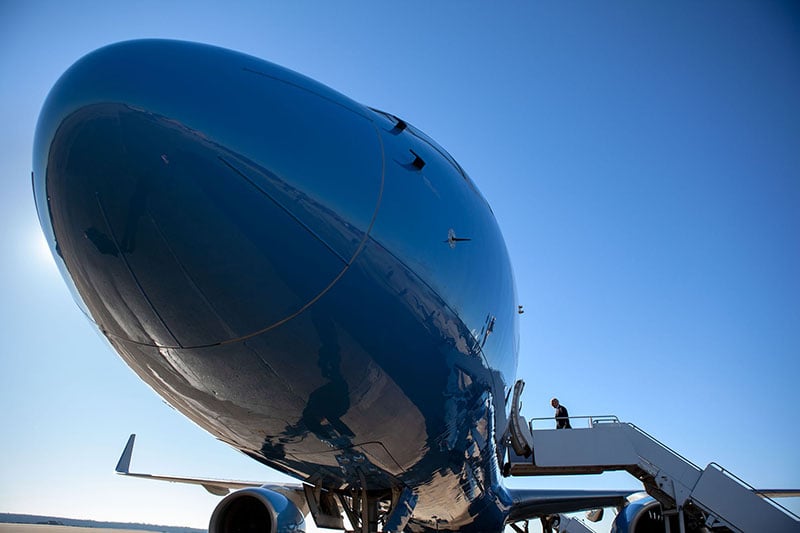 How did you end up getting picked for this job?
I first photographed Joe Biden, along with the other 15 candidates during 2007 in the lead up to the Iowa Caucus. I saw and was inspired by his ability to connect with Americans on the campaign trail as a "regular Joe." He always took the time to talk to everyone in the room.
So, when he was picked as the VP nominee, I started reaching out to everyone I knew in his office to see if I could join the campaign as his photographer. And when he got sworn in as Vice President, I moved to Washington and joined the photo office about six weeks later.
What was it like for a 24-year-old, when you started at the White House?
It was an incredible experience. I'd worked as a freelance photographer covering the campaign in 2007, so I covered then-Senator Biden and Senator Obama and of all the other candidates that were running in 2007-08. But as you alluded to, going from being a journalist to a 24-year-old White House photographer, traveling with the Vice President of the United States all over the country and all over the world. It was a really, incredible opportunity to get to serve in the Obama Biden administration.
Are you going to be covering the Biden campaign?
I helped photograph the big kickoff rally in Philadelphia last year and covered a few other events along the way. I'm not sure, given the COVID-19 situation, what or how much in-person campaigning will happen this fall, but I'm obviously willing to help as much as possible.
If Joe becomes President, do you pack your bags for another eight years? That would end up being the longest stint for any photographer at the White House.
I'm not positive, but I believe my old boss Pete Souza worked for most of President Reagan's two terms as well as all eight years of the Obama administration.
That said, right now I'm focused on sharing with the American people who the Joe Biden I got to know during my eight years at the White House is, and trying my best to help him get elected… I don't have any plans for January.
What do you shoot for fun?
I love taking photos of the outdoors, hiking, and camping. I've recently had an older camera converted to black & white infrared that I've been sort of playing around with a little bit.
What advice would you have for aspiring photographers who want to be a White House photographer?
I think having a relevant portfolio of images is helpful. I'd certainly cover sports and breaking news and other things. I had spent a year photographing politics before I got the job.
I also think being professional, able to dress well and read the room are also hugely important skills, some of which I was better at than others when I started working there.
---
You can find more of David Lienemann's work on his website and Instagram, where he is posting a photo a day, some from the book, up until the election.
---
About the author: Phil Mistry is a photographer and teacher based in Atlanta, GA. He started one of the first digital camera classes in New York City at The International Center of Photography in the 90s. He was the director and teacher for Sony/Popular Photography magazine's Digital Days Workshops. You can reach him via email here.
---
Image credits:  Little Brown & Co. and David Lienemann and used with permission. Photo of David Lienemann by Lawrence Jackson.