Photographer Shoots Direct-to-Paper Photos in a Giant Camera Obscura
Photographer Brendan Barry has been shooting 20×24-inch color still-life images directly onto photo paper via a camera obscura using a color reversal process. In this short 3-minute video, you can watch how he does it.
Barry explains that the origins of this process started with a walk he would take with his daughter every day during lockdown when they would pick wildflowers, bring them home, and arrange them for photos he would make.
"The emerging series touches on many themes including; family, health & wellbeing, reconnecting with nature, exploration of personal space and appreciating ones immediate surroundings," he writes.
The images that he has made thus far are produced using a complex color reversal process that Barry has developed (no pun intended) over the last year.
"It is long and laborious and the photographs hard to achieve," he writes. "It can take up to 8 hours to create a successful exposure. I took to shooting through the night, partly for health and safety reasons (open trays of toxic chemicals and curious toddlers don't mix well!) but also because it is so peaceful & quiet then."
Barry hasn't detailed those laborious specifics of his process, but in the video above you can watch some of the steps he takes to make them happen. He has also shared a few images of his setup: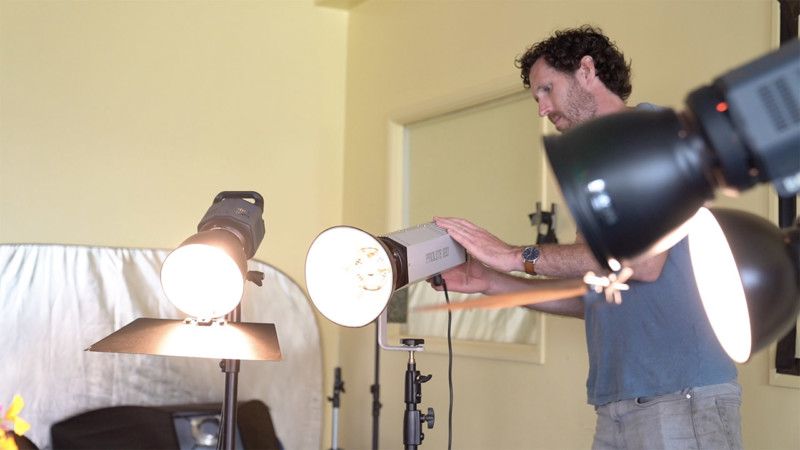 Barry has moved to a previously-empty building just off the high street in Exeter where he lives as seen in the images above, but the project started attached to a shed in his backyard:
You peruse a full gallery of images that include finished pictures as well as multiple images that give a behind-the-scenes perspective of how the photos came together on Barry's website. You can also follow him on Instagram where multiple photos are also shared as well as his YouTube.
---
Image credits: Photos by Brendan Barry and used with permission.