Panasonic to Unveil New Entry-Level Full-Frame Camera Soon: Report
Sony isn't the only company with a new entry-level full-frame mirrorless camera in the pipeline. According to recent reports, Panasonic is going to release its own "Lumix S5" camera that's being described as a "smaller version" of the Panasonic S1.
Details about the rumored camera are pretty limited right now. Rumors of a Panasonic Lumix S5 first cropped up at the end of July, when shooting grip manual published in Japan accidentally included the "DC-S5" model number among the other cameras listed.
It was quickly removed, and most people forgot about the rumor until this morning when Nokishita confirmed that the camera had been registered with retailers "overseas" (for Nokishita that means retailers in the US), alongside a new "Lumix S5 20-60mm lens kit."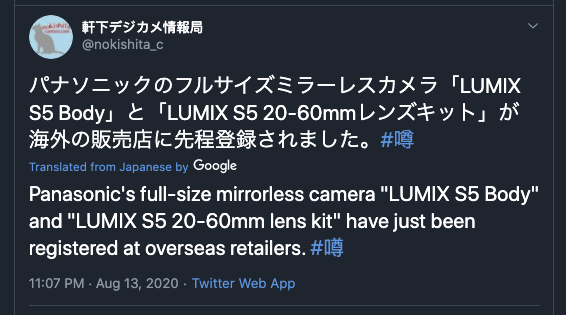 That's all we know for now. The original rumor out of Japan indicated that the camera is "expected to be a small version of S1 mirrorless," but no specs have leaked as of yet.
Certification at retailers usually only precedes release of the camera by a couple of weeks at the most, so expect this camera to get the official treatment very soon. In the meantime, drop us a line in the comments and let us know what you hope Panasonic has planned with its version of an entry-level full-frame mirrorless camera.
Canon already did it with the EOS RP and Nikon with the Z5. Sony is allegedly planning to release an "a5" or "a6" entry-level model soon. What should Panasonic do differently?
(via L Rumors)
---
UPDATE 8/14/20: A few hours after publishing this report, Nokishita released a full, leaked spec sheet that allegedly reveals everything you might want to know about the upcoming Panasonic Lumix S5.
We won't spoil it here, but you can see Nokishita's Tweet below and download the spec sheet if you so wish:
パナソニック「LUMIX DC-S5」のスペックシートが海外のニュースサイトに掲載されました。#噂https://t.co/5rIb8Ggs0T

— 軒下デジカメ情報局 (@nokishita_c) August 14, 2020