Newspaper Navigator Lets You Search 1.56M Newspaper Photos Throughout History
The Library of Congress has created something really cool. It's called the Newspaper Navigator, and it's an AI-powered image search that lets you browse through over 1.5 million newspaper photos from over 16 million pages worth of digitized newspapers published between 1900 and 1963.
The Newspaper Navigator project is the brainchild of Computer Science PhD student Benjamin Charles Germain Lee, who is a part of the Library of Congress' 2020 Innovator in Residence Program.
The project is essentially a machine learning-based search engine built on top of the LoC's Chronicling America project; Chronicling America already allows you to search old newspaper photos by text using Optical Character Recognition (OCR), but Lee's Newspaper Navigator takes that to the next level by allowing you to search this same archive by image.
He achieved this by training a machine learning model using thousands of manual annotations created by real people as part of the Library of Congress' "Beyond Words" initiative. That data helped the computer "learn" the difference between image categories like Cartoons, Illustrations, Maps, and Photographs, as well as identifying key content within each image. This allowed him to automatically tag the photos and make the database searchable.
You can dive deeper into how the project came to be in the video below, in which Lee explains exactly how Newspaper Navigator works:
Ultimately, the details of how it works are less interesting to us than the reality of what it can do: Newspaper Navigator puts 1.56 million newspaper photos from the years 1900 to 1963 at your fingertips, allowing you to quickly and easily find fascinating photos throughout history.
For example, here's an illustration of Halley's Comet "as it will soon appear," which was published in 1909: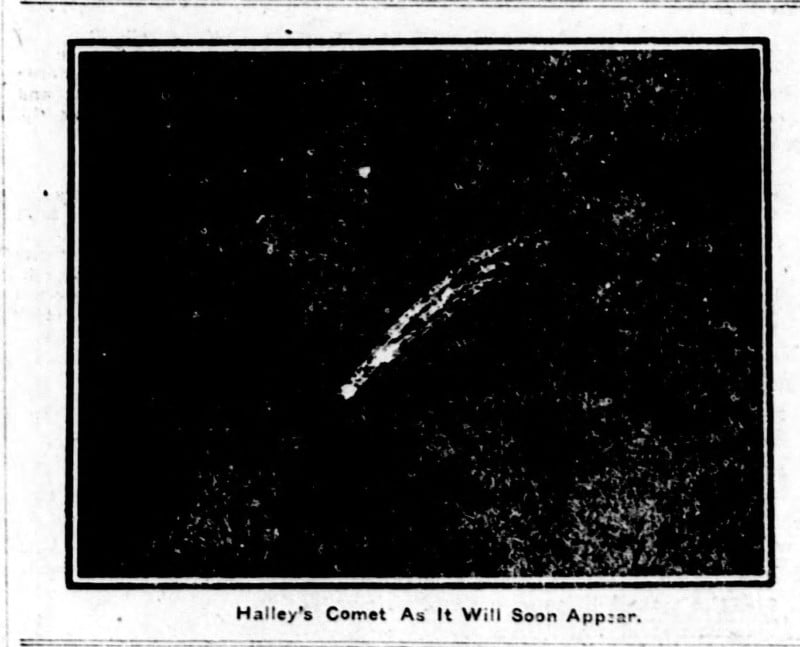 This photo is claimed to be the "first picture of the giant iceberg which smashed the [ocean] liner Titanic," taken by Captain William Freeley Wood of the Eutonia:
This photograph shows the Wright Brothers' airplane in flight:
This image of the Hindenburg over Washington was taken in 1936, one year before it famously caught fire in the skies over New Jersey (Warning: the headline might well make you squeamish):
This beautiful landscape photo shows St. Mary's lake in Glacier National Park as it looked in 1953:
And, finally, here is photographer Fred Davis receiving the Oskar Barnack medal for his portrait of the Dionne quintuplets, which was on display at the International Leica Exhibit in New York in 1938:
This is just what we found after a bit of browsing to see what came up when trying various searches. There is obviously much more to find if you take the time to dive deep into the archive, get creative with your search terms, or limit the year and location of the newspapers you want to search.
To find out more about the Newspaper Navigator project or browse the archive for yourself, click here.
(via The Click)