Halide Camera App Gets Huge Update with New Design, Instant RAW, and More
Lux, the company behind the popular iOS camera app Halide and the award-winning long exposure app Spectre, has just unveiled Halide Mark II: a completely redesigned and majorly upgraded version of Mark I that brings several intriguing new features for beginners and pros alike.
"After eighteen months of work, today we're excited to announce a new photography app. It takes everything we've learned since launching the our hugely successful manual photography app, Halide, and combines it with the technology developed for Spectre, Apple's 2019's iPhone App of the Year," explain the app's creators. "Mark II is more than an update: it's a new camera. An elegant, intuitive camera that can be enjoyed by casual photographers, while providing the most advanced features expert photographers demand."
Marketing speak aside, there are several discrete updates to both the interface and the core features of the app that are worth listing.
On the design front, the app now features gesture-based switching between auto and manual mode, a new "reachable" interface for older iPhones, 'Tactile Touch' for enabling and disabling of features like exposure warnings and focus peaking, a completely overahauled manual mode, a redesigned focus bar with extra controls, and a redesigned photo reviewer that gives you access to a bunch of relevant metadata.
You can get a peek at the new interface below: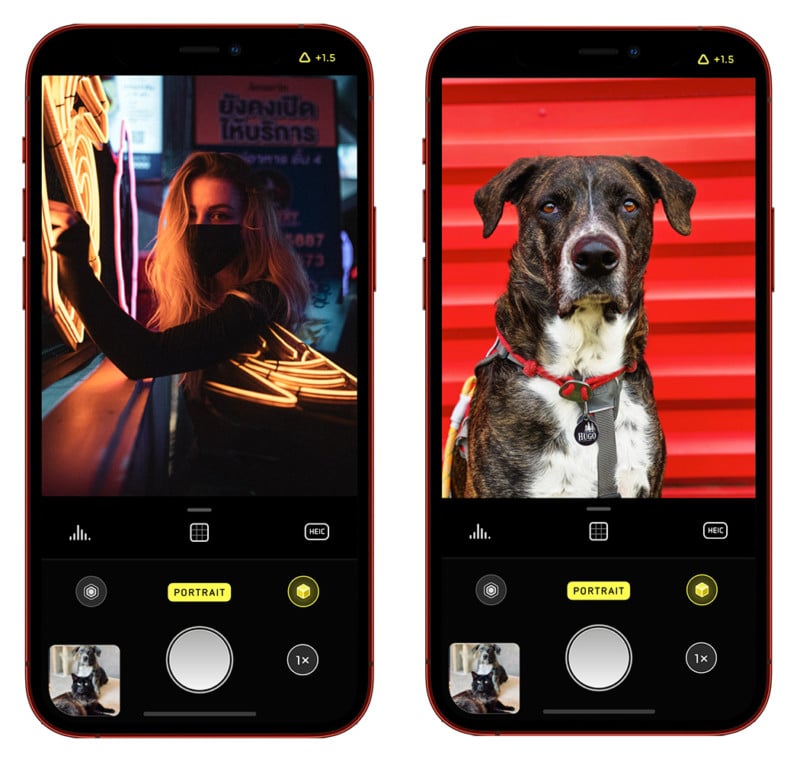 In terms of new features, three are worth calling out by name: Coverage, Instant RAW, and Pro Tools XDR. You can read Lux' description of these three features below:
Coverage: a new feature that enables users to get the best of both worlds: with Coverage, Halide takes a photo with Smart HDR 2/3 and Deep Fusion with maximum quality and computational processing, as well as a RAW file. There is a small delay between these captures, but this enables unparalleled flexibility when shooting.
Instant RAW: A feature in Halide's reviewer to instantly develop RAW DNGs taken in the app. Normally, developing RAW files can be a time-consuming process with many parameters. Halide Mark II uses Machine Learning to process an iPhone RAW file with 17 steps for a great, immediately share- or editable result. Steps include detail enhancement, contrast and color adjustment and more.
Pro Tools XDR: The new waveform and color exposure warnings (zebras) are not only fast and accurate, but use XDR (Extended Dynamic Range) 14-bit RAW sampling, for truly accurate exposure previews and readings. Luminance and color histograms can now be tucked into the 'ear' of the iPhone or shown large on screen for extra detail and closer inspection. Focus tools include new, automatic and enhanced focus peaking as well as a focus loupe for achieving critical focus.
The most intriguing of the features above is Instant RAW, which Lux describes as a middle-ground between a Raw image and a fully processed JPEG. The new mode wants to give you all the latitude benefits of using a RAW file without the hassle of actually having to edit the file before you share.
"In a world where the-built in camera has its own filters, Instant RAW is a 'No Filter' module," explains Lux. "You are free to use and share the result directly, or use it as a starting point for editing, just like ProRAW. That said, sometimes results are amazing straight-out-of-camera."
You can see the difference quite clearly in the images below, which compare JPEG output, DNG RAW, and Instant RAW: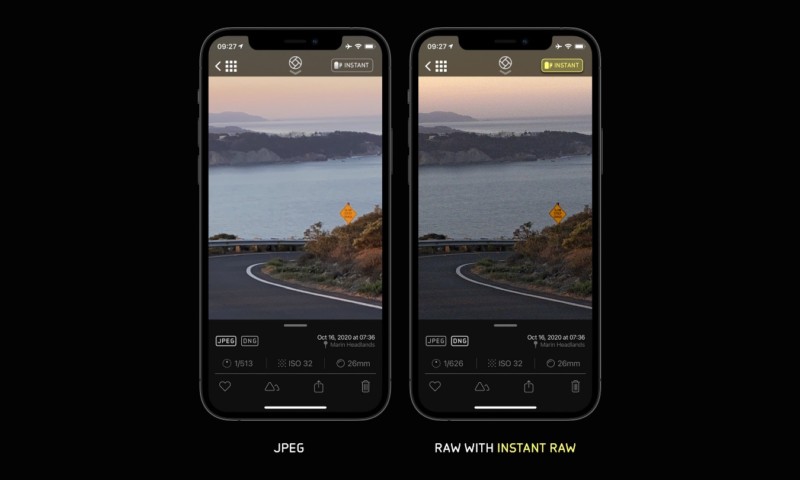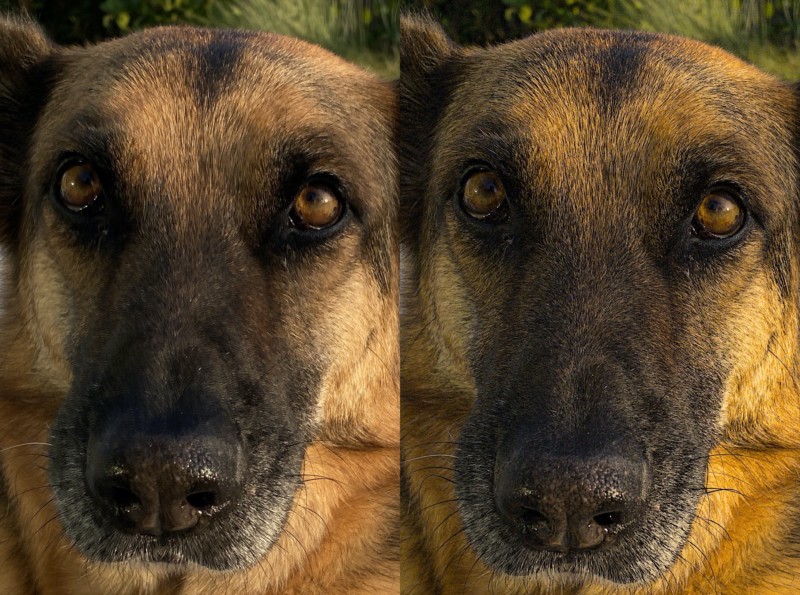 Halide Mark II officially launched this morning and is available for $10 per year on a subscription plan, or as a $36 purchase if you want to own this version forever. Owners of the current Halide app get the new version for free, as well as one year of membership (and therefore updates) for free. 
To dive deep into all the app's new features, design, and UX elements of the new iPhone app, read the full announcement post at this link. And if you want to give Halide Mark II a shot for yourself, you can find a download link no the Halide website.