Astropad Now Supports Using an iPad as a Drawing Tablet on Windows
Astropad has been offering multiple ways to connect and use an iPad with an Apple computer for some time, but today it has announced that it is bringing this functionality to Windows machines as well. Called Project Blue, it allows you to mirror your Windows desktop or use an iPad as a drawing tablet.
Astropad Standard and Studio have offered the ability to mirror your display from the iPad to Apple computers and use an iPad as a drawing tablet in concert with macOS for some time. The company also has the LunaDisplay, which turns any Mac or iPad into a wireless second display using a small USB-C dongle.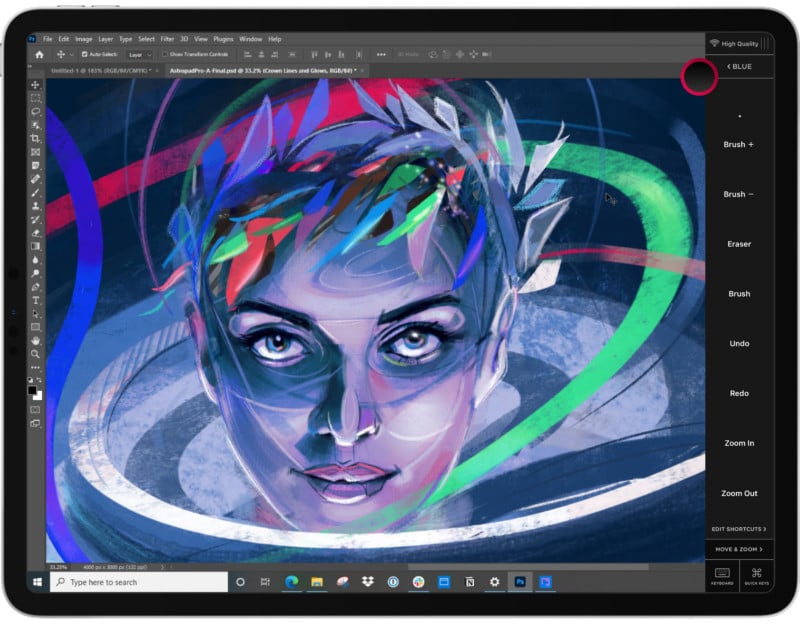 Project Blue appears to be the Windows equivalent of Astropad Standard and Studio and works with any Windows program software such as Photoshop, Illustrator, Blender, ZBrush, and others. Just like with Astropad's macOS equivalents, Project Blue allows the iPad to work together with a Windows machine either wirelessly or tethered via USB.
Project Blue goes beyond a basic drawing tablet. Featuring a robust sidebar and on-screen UI, you can quickly access your favorite shortcuts and customize your drawing preferences.
Currently, Project Blue supports drawing tablet functionality such as mirroring, Apple Pencil support, and touch supper (pan and zoom). It also has limited Astropad Studio shortcuts and customization, such as basic sidebar shortcuts, "magic gestures," hard and soft pressure curves, on-screen modifier keys, on-screen keyboard, external keyboard support, and "move and zoom" functionlity.
Astropad says that it also has low latency at 60 frames per second and GPU support.
Because this is a beta, it's still a work in progress. The company says that expanded shortcuts (like unlimited customizable shortcuts and per-app shortcuts), as well as custom pressure curves and custom pressure smoothing, will be coming soon. Astropad also plans to add Luna Display integration and further reduce latency.
The best part of this beta is that it's free, and anyone can sign up to download it right now. It is highly likely that this service will become paid once it comes out of beta, but for now anyone can give it a shot with no strings attached.
Using an iPad with a Windows machine may be new to Astropad, but it's not a new concept. Duet Display has worked on Windows for some time, but there are notable differences. You can see some of the differences between the two platforms here.