A Good Start That Will Get Better
Nikon recently announced the launch of its free NX Studio software, which has hopes to be a Lightroom/Capture One Pro alternative for Nikon RAW processing on Windows and Apple computers.
This new application is supposed to view, process, and edit still images and videos from any Nikon digital system (past, present, and future), merging the tools found in ViewNX-I & Capture ND-D applications. The idea was that it would take two applications — one for minor adjustments and one for more comprehensive changes– and consolidate them into a single application while fixing some of the workflow headaches for the Nikon user base.
The result would thus give — as Nikon explained to me on a call — "the best raw processing experience for Nikon files instead of what you'll get from the other apps out there currently."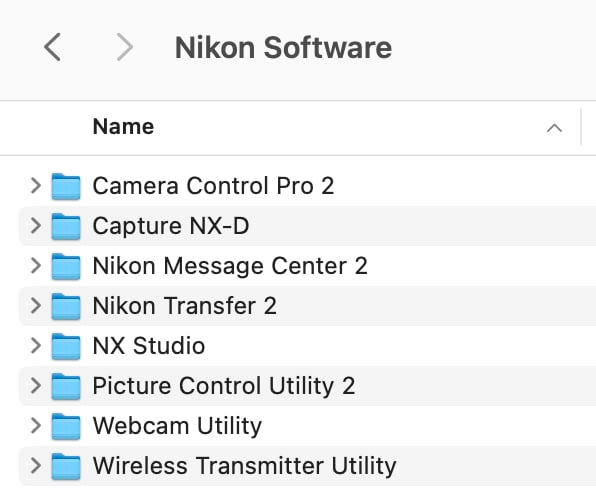 For any Nikon shooter who's visited the downloads page of the Nikon website, we're more than familiar with the variety of stand-alone apps provided, so starting to merge some of these and reduce the clutter is a more than welcome shift. However, the question remains: Is this application as good as advertised?
A Familiar Interface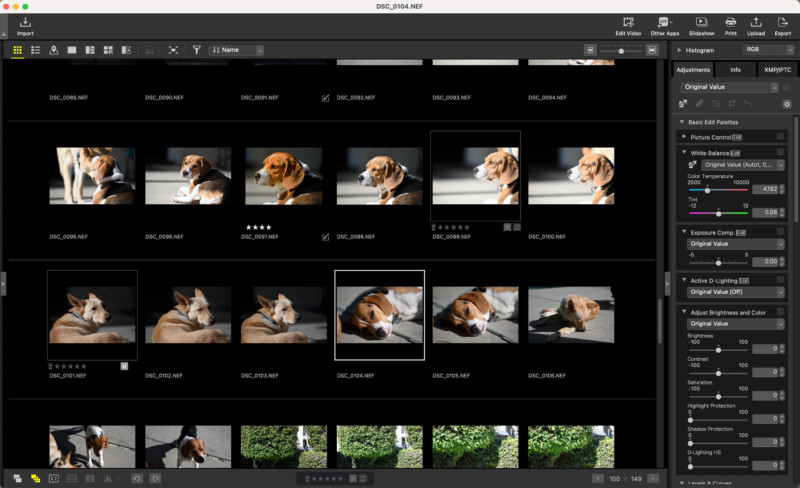 The NX Studio application's layout should be familiar (mostly) to anyone who's used ViewNX or Capture ND along with some similar layout options you'll find in the other big-name RAW processors out there.
Compared strictly to the previous ViewNX and Capture family of apps, NX Studio has a much-improved menu layout that provides an easier interface for importing, sorting, and performing basic edits of your raw photos and videos than in previous Nikon applications. In particular, most of the menu and tools are labeled to match the naming and order you would find in your Nikon camera's menus, a choice that is designed to theoretically give a more comfortable experience for Nikon users.
Included are options to transfer your files (edited or even RAW) directly to Nikon Image Space or YouTube, effectively speeding up your sharing workflow should you choose to take advantage of the features.
That's Great, But How Well Does It Work?
As far as file support goes, the application can load up any existing RAW file from any Nikon digital camera dating back to the 1990s and will support any new file coming from future cameras on the day they're available to the public.
As for its processing feel of the workflow, it's actually not that bad. It's not perfect by any stretch and far from industry-leading, but for a free application, it's actually pretty robust. Additionally, keep in mind this is a version 1.0 and updates/improvements will come.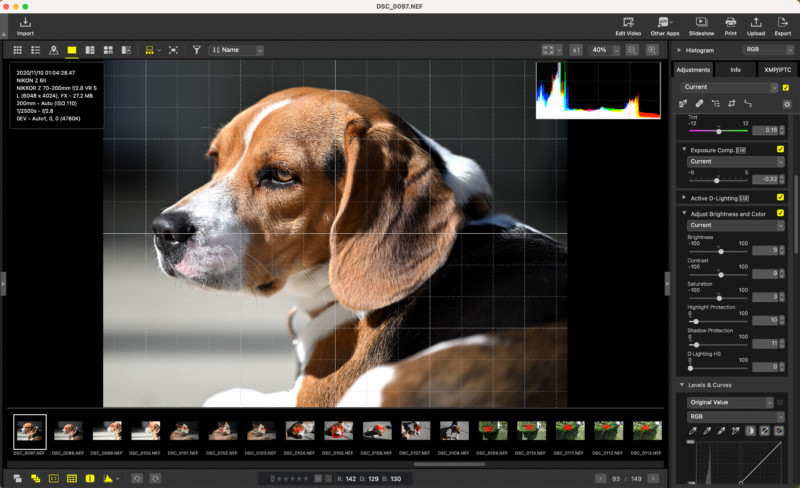 The tools should be familiar to anyone who has used a RAW processor before: white balance, exposure, sharpness, active D-lighting, noise reduction, LCH/Chroma and Color Booster adjustments, and even a Color Control Point tool — more on that in a moment.
For the most part, if you're familiar with Adobe Lightroom, the layout, workflow, and tools in Nikon Studio NX all worked in a way that was pretty much in line with what you would expect.
I did some quick testing with a flat raw file by exporting it (flat) from Adobe Lightroom to Photoshop and saving it as a JPG versus doing the same but with NX Studio, and as you can see below, the NX Studio file actually does have a more vibrant & sharper image to work with than the Adobe RAW processed file. For Nikon shooters, if you want to get the absolute best out of the colors & detail from your RAW files, incorporating NX Studio into your workflow should definitely be a part of your plan.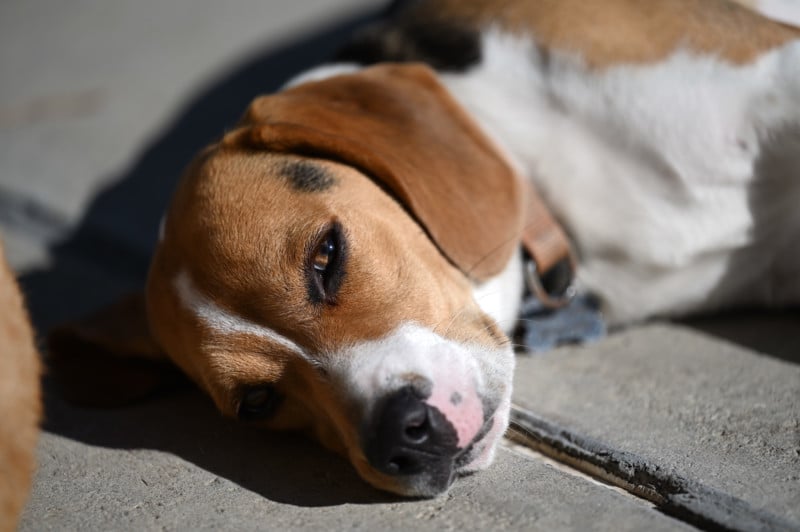 Another nice touch is the Color Control Point tool Nikon included, which is a lovely throwback to the NIK Software days, and a solid bonus to see.
This tool, which you can add multiple times through your file(s), gives you some localized control over color and exposure adjustments to your file. It lets you add a little creative layer-like flare to your shots before moving on to sharing or editing further in applications like Photoshop.
There Are Some Problems
In my testing of this application, a few things bugged me. In particular, there were some significant latency issues in the previews of the adjustments, particularly when using an external or secondary monitor. There was also some intermittent latency with both tool activations/display and even the preview renders (sometimes up to 4 seconds).
This could be largely due to my particular computer being heavily used for testing applications on the regular, but a few other "testers" I've spoken to have also experienced this same lag so it appears to be something on Nikon's side. The problems seemed to disappear whenever I chose to use the software with just the laptop display and no external monitors connected, though. Clearly not ideal, but there is a workaround.
Is it a dealbreaker? Not at all, but as with everything in the editing world, speed is of the essence and having these issues is certainly something I hope Nikon addresses in the next update.
The next issue I experienced involves the "Retouch Brush" tool seen above: it did not seem to work right for me. After some frustrating testing, I decided to try and solve my issues by speaking with the developer team at Nikon, and after some back and forth discussion it was determined that the basis of my frustrations are in how the tool is advertised versus what it is supposed to do.
I found that this tool is more of a localized spot healing tool than an actual brush, despite its function and name. Coming from a heavy Adobe and Capture One background, I was expecting a content-aware type tool and it doesn't quite work that way. Sometimes it would create more of a gaussian blur while other times it would copy a chunk of texture from a nearby area. As you can see from the examples below, this tool is mostly designed for small, single-click clean-ups like dust spots and other smaller blemishes and imperfections. Should you need to do more than this, I'd recommend avoiding this tool and using Photoshop.
The next grievance — and this one is particularly important — is currently there are no "undo/redo" features for quick mistakes you may make while editing in the app. The tools are there, but they simply do not work in its current release. They're actually greyed out and unavailable to be used. If you make a mistake (like the retouching brush above), the only way to undo it is to revert to the "original value" on that particular edit.
This is frustrating and problematic, however, there is a small silver lining to this problem: Each reversion to the original state is tool/section specific. So if you make a mistake with the retouching brush and revert it back, it only erases the changes made in that section of your edit. The same applies to each other tool and section in the application.
While it's clearly a problem to not be able to step forward and backward in your edits, the good news is at least not everything would be lost should you make a mistake and want to backtrack along the way.
A Good Start That Will Only Get Better
There is a lot to like here, and because it offers great processing of Nikon RAWs it is easy to recommend for Nikon shooters even with the bugs and errors I encountered. The Nikon team told me that every digital camera they release will be supported, (immediately), with this application. While they couldn't confirm with me any sort of update or development cycle for it, we can probably assume that as new cameras are released, the NX Studio application will get at least a minor update to go along with it. With that in mind, there should be no interruption in your workflow if you decide to be an early adopter for any new Nikon cameras that hit the market.
Are There Alternatives?
As you can see from this list, there are plenty of other free (or affordable) RAW processing applications out there. However, if you're a Nikon shooter, the NX Studio application is built to provide the most faithful representation of color and clarity from a Nikon camera that you can possibly get. For free software, that's hard to beat.
Should You Buy It?
Well, it's free, so if you're a Nikon shooter, yes. There is no risk and, as a result, there will be no buyer's remorse with this software. Nikon NX Studio, while currently not perfect, is only going to get better and more robust with age.